Unveiling a New Strategic Highway Safety Plan
August 15, 2022
Baton Rouge, LA – – In accordance with its Destination Zero Deaths (DZD) initiative, Louisiana recently unveiled its newest Strategic Highway Safety Plan (SHSP).
The SHSP, which is updated every five years, identifies emphasis areas, strategies, and tactics for reducing fatalities and serious injuries on all public roads across the state. This plan is developed with input from driver behavior safety experts, engineers, law enforcement personnel, emergency service providers, and advocacy groups, and is implemented through ongoing activities by a variety of stakeholders and state agencies.
Based on the data supplied by the Center for Analytics & Research in Transportation Safety (CARTS) concerning contributing factors associated with fatalities and injuries, the SHSP identifies four emphasis areas, with an additional focus on older and younger drivers in each area. The four emphasis areas are distracted driving, impaired driving, occupant protection, and infrastructure and operations (which includes roadway/lane departure, intersections, and non-motorized users).
SHSP safety partners will implement strategies to address potential behavioral and/or infrastructure issues as identified by the data in each area. These strategies include using policies, programs, and projects to positively impact the number and severity of crashes, as well as to target solutions to the appropriate geography and demographic.
Some of these strategies include:
Increasing education efforts and community outreach programs, both statewide and at the local level
Strengthening laws and public policies to prohibit risky behaviors such as distracted driving
Increasing accountability through enforcement or other methods
Identifying, developing, and deploying engineering solutions along corridors found to experience severe crashes related to risky driving behaviors such as impaired driving or distracted driving
Increasing the number of child passenger safety and CarFit technicians in the state and spread awareness to local communities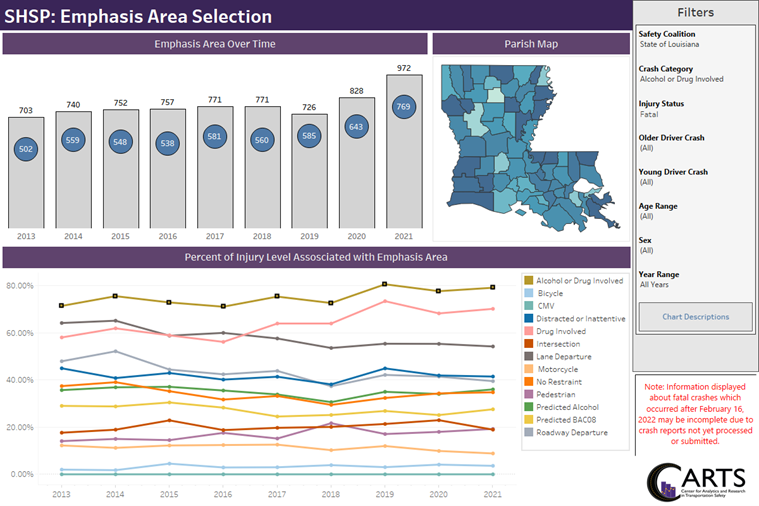 To aid in the implementation of the new SHSP, CARTS has updated its SHSP dashboards. The dashboards now reflect updated emphasis areas (as demonstrated in the image above) as well as a new data dictionary. The dictionary will assist users with the transition to new definitions of data elements that comes with the State's recent adoption of a new crash report that is aligned with the latest Model Minimum Uniform Crash Criteria (MMUCC).
About DZD
Louisiana is driving towards Destination Zero Deaths, with the Strategic Highway Safety Plan (SHSP) as its vehicle, to reduce motor vehicle-related fatalities and serious injuries. The plan is multidisciplinary, data-driven, and constantly evolving. It is a living document updated every five years with input from a broad array of stakeholders and with leadership from the Louisiana Department of Transportation and Development (DOTD), Louisiana State Police (LSP), and the Louisiana Highway Safety Commission (LHSC).
About CARTS
The Center for Analytics & Research in Transportation Safety (CARTS) is responsible for collecting, maintaining, integrating, analyzing and distributing crash-related data captured from law enforcement and other agencies throughout the State of Louisiana. CARTS utilizes this data to develop business intelligence (BI) and GIS tools, perform research studies and produce an annual factbook. These tools and publications are used by decision-makers to identify potential problem areas, create countermeasures, set policies, and establish programs to improve the safety of our roadways in Louisiana. CARTS is a center within the E. J. Ourso College of Business at LSU.
###
Contact: CARTS
Center for Analytics & Research in Transportation Safety
225-578-0366